COVID-19 Vaccine

MyChart FAQs
MyChart is your secure electronic medical record and your access to vaccine self-scheduling. Once you have your MyChart account, simply log-in and follow the prompts to self-schedule your vaccine appointment. It's that easy!
Don't have MyChart and prefer to schedule via phone? Call 1-866-STLUKES (785-8537), option 7

---
Why should I get the vaccine?
Vaccines are an important tool in the prevention and spread of diseases like COVID-19. Vaccines work with your immune system, so your body will be ready to fight the virus if you are exposed. Other steps, like mask-wearing and social distancing, help reduce your chance of being exposed to the virus or spreading it to others.
Close
Is the COVID-19 vaccine safe & effective?
Both vaccines were found to be >95% effective in preventing COVID infection.
The vaccines were well-tolerated and the rate of adverse effects was low. There were no safety concerns after an average of 2 months of patient monitoring. Many people do not experience any side effects of vaccination.
The most common reactions were injection site pain, fatigue, headache, muscle pain, and joint pains. This is a sign that the vaccine is working and that your immune system is doing exactly what it is supposed to do.
There were no serious neurological adverse effects.
There are no concerns with any negative effect of the vaccine on male or female fertility.
Vaccines from both Pfizer and Moderna are being released by the Food and Drug Administration (FDA) under emergency use authorization (EUA).
An EUA is issued by the FDA to allow access to critical medical products that may help during a public health emergency. An EUA is different from approval/licensure.
The following criteria must be met for an EUA to be issued:
The product will be used for a serious or life-threatening disease or condition.
Based on the totality of scientific evidence available, it is reasonable to believe the product may be effective.
The known and potential benefits of the product outweigh the known and potential risks of the product.
There is no adequate FDA-approved alternative available.
We encourage individuals to speak to the physician or health care provider about the vaccine if they have concerns or questions. If you need a doctor, call 1-866-STLUKES (785-8537) or visit findadoctor.sluhn.org.
Close
What do I need to know about getting the vaccine?
Does the COVID-19 vaccine require two doses?
Yes, you need to have two doses of the same vaccine, given between 21 and 28 days apart.
The full two doses need to be administered for the best chance of effectiveness.
Is the second dose the same dosage as the first?
Yes, the second dose is the same dosage as the first, and it must be from the same manufacturer.
Can I stop masking and physical distancing if I get vaccinated?
You should continue taking precautionary measures like masking, social distancing and handwashing.
Close
Is there a vaccine for kids?
The Advisory Committee on Immunization Practices (ACIP) issued an interim recommendation for use of the vaccines for the prevention of COVID-19 as follows:
Pfizer-BioNTech COVID-19 vaccine in persons aged ≥16 years
Moderna COVID-19 vaccine in persons aged ≥18 years
Fewer children have been sick with COVID-19 compared to adults. Vaccine manufacturers are expected to start pediatric clinical trials soon.
Close
If I already had COVID, should I get the vaccine?
Yes, you should still get the vaccine. It is estimated that antibodies from natural COVID infection last at least 90 days. While studies of duration of immunity from the vaccine are still in the works, there is early evidence that antibodies from the vaccine remain for at least 3 months, and likely longer. While there is no harm in receiving the vaccine at any time after your recovery from COVID, we favor deferring vaccination for 90 days from the time of infection. This gives you the best chance to maximize your period of immunity.
Vaccines will help us fight COVID-19; however, it is still important to be S.M.A.R.T.!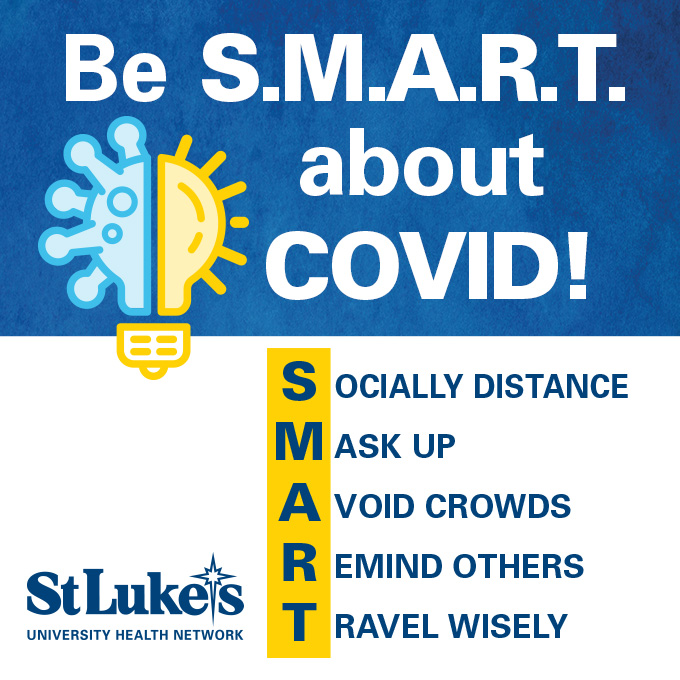 Close
More COVID-19 vaccine FAQs